On the 25th, ENEOS, the largest oil company in Japan, announced that it will close the Wakayama refinery by October 2023. The Wakayama Refinery is said to have a processing capacity of 127,500 barrels / day, 450 employees, and 1,200 people including related employees. It is an almost medium-sized refinery in Japan. Following this announcement, it is reported that the Governor of Wakayama Prefecture made an angry protest against ENEOS. It cannot be forgiven for a sudden closure without any consultation. He wants ENEOS to keep its employment.

The Wakayama Refinery was a refinery of Tonen-General Group, one of the oil distributors, but in 2017 the company merged with the JX Group to become the JXTG Group. After that, JXTG was renamed to ENEOS, but ENEOS is the brand name of the JX Group. In other words, although it is said to be a merger, Tonen-General is actually under the umbrella of the ENEOS Group.

Only five years after the merger, the Wakayama Refinery was closed. The question arises here. Why did ENEOS bother to bring a refinery that could be closed under its umbrella? Actually, I think there was a national policy behind it.

In recent years, the demand for petroleum products in Japan has continued to decline due to the softening and hollowing out of domestic industries and the declining population. In particular, sales of gasoline are steadily declining due to the effects of young people moving away from cars and the declining birthrate and aging population, in addition to improving fuel efficiency of automobiles. And decarbonization accelerates that movement.

If the demand for petroleum products decreases, Japanese refineries will have to be closed one after another. And according to government policy, by 2050 almost all Japanese refineries will be closed or reduced, with the exception of non-fuel production parts such as petrochemicals, lubricants and asphalt.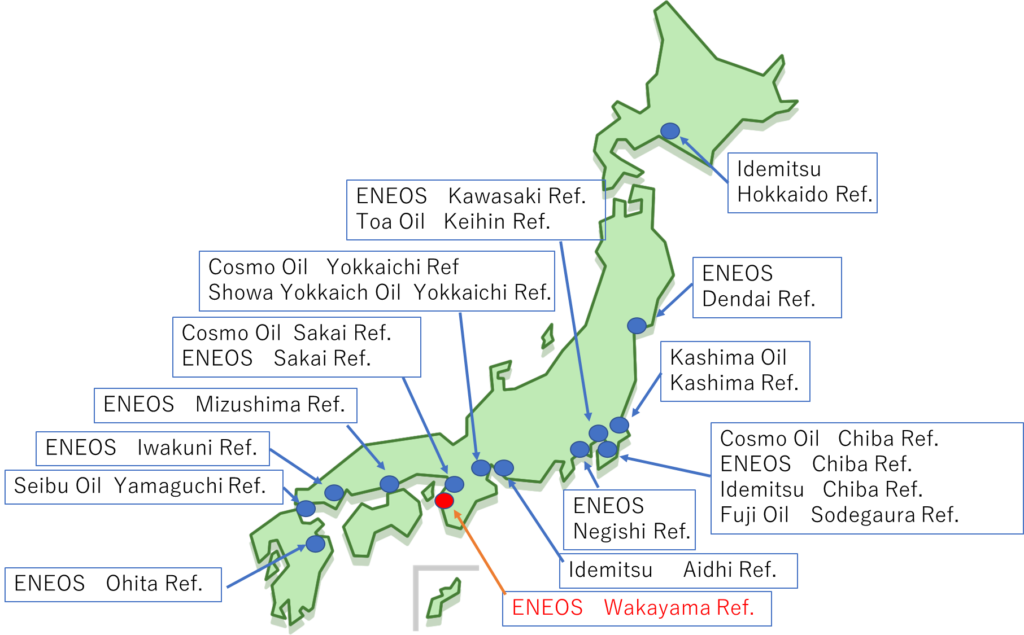 Location of Japanese refineries
At this time, the first thing to consider is the issue of employee employment. In Japan, closure does not mean that employees are immediately dismissed as in the United States. Since ENEOS has more than 10 refineries and factories nationwide, most of its employees will be reassigned to other place and some employees will be able to retire with a fairly high premium severance pay if desired.

However, it is difficult to relocate employees unless it is a large company with many offices. In 1980s, as many as 17 oil companies were existed in Japan. If a small oil company which have only one refinery, closes the refinery, there will be no place for employees.

Fortunately, the oil industry has repeatedly merged due to national policy, and each company has been scaled up. Currently, it is grouped into almost three groups: ENEOS, Idemitsu, and Cosmo. In the future, the refineries of each company will be gradually reduced or closed as the demand for petroleum products decreases.

The Governor of Wakayama is angry that he was suddenly told to close the refinery without any consultation, but probably due to national policy, the closure of the refinery is the default route. In other words, the Wakayama Refinery was not decided to close suddenly, but was already programmed from the time it became part of ENEOS. And, as President Ohota of ENEOS said, the refineries will continue to be closed in the future until 2050.
January 28, 2022