Yesterday, April 9, Russia's news agency Sputnik News (Japanese version) published an article stating that "US imports of crude oil from Russia was increase by 43% in a week." Deputy Secretary Popov of the Russian Security Council said it was revealed. "The United States is continuing to import crude oil from Russia, while imposing sanctions on Europe against Russia. But last week it increased its supply by 43% to 100,000 barrels a day. "
In other words, the United States has instructed Europe not to buy Russian resources, but has continued to import crude oil from Russia, and on the contrary, has increased imports by 48%. It seems that some people in Japan also read this article and resented that this was a mandate fraud in the United States.
Is crude oil imports from Russia really increasing?
There is an agency called EIA in the United States that collects and publishes very detailed data on energy. The figure below is a graph of the amount of crude oil imported from Russia by the United States from the vast amount of data on a weekly basis.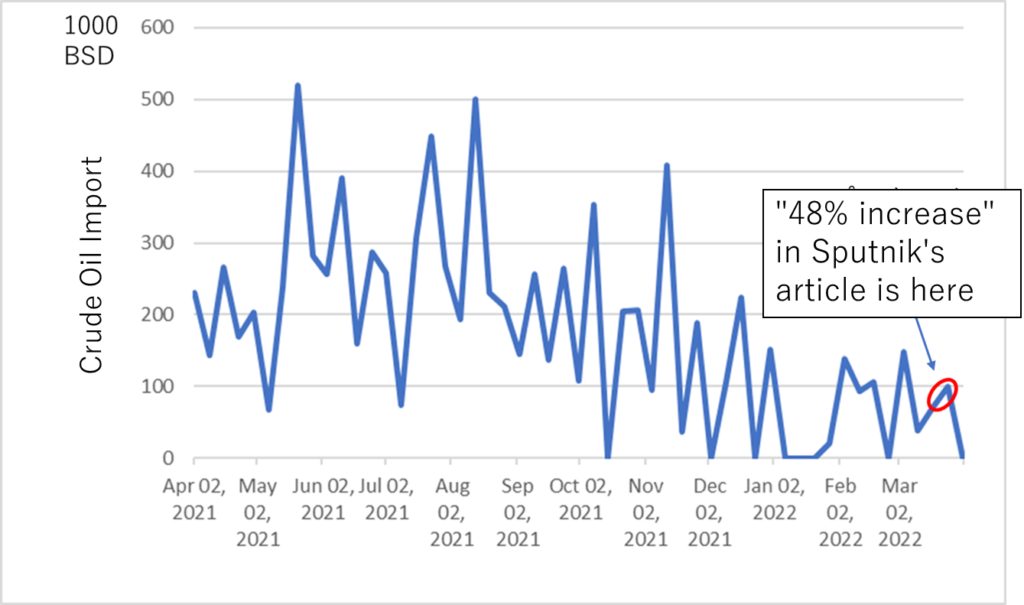 There is a great deal of variation throughout, but contrary to Sputnik's article, it can be seen that imports of Russian crude oil tend to decline little by little.
So what does the 48% increase in Sputnik's article mean? This seems to be the 4th week of March this year. Imports in the third week were 70,000 barrels a day and 100,000 barrels in the fourth week, an increase of about 48%. This corresponds to the part indicated by the red circle in the figure.
In other words, the amount of crude oil that the United States imports from Russia has decreased in the last year, but has increased slightly when comparing only the third and fourth weeks of the latter half of March.
By the way, the United States is the world's No. 1 crude oil producer and Russia is the world's third largest crude oil producer, and both countries are also crude oil exporters. Therefore, the United States does not need to import crude oil from Russia in the first place. In fact, Russian crude oil accounted for only 0.07% of US crude oil consumption (average daily 987 million barrels) in 2021. On the other hand, the proportion of crude oil that Russia exports to the United States was only 1% of the total export volume.
That is, there is no need to import and export crude oil to each other, and therefore the amount is small. Therefore, the change from week to week also has a small denominator, so that the variation becomes large. (For example, one tanker carries about 2 million barrels of crude oil, so just delaying the arrival or departure of one oil tanker can easily cause variations of about 100,000 barrels per day.)
It happened that in the last week of March, crude oil acceptance was about 30,000 barrels higher than in the previous week, but this is just a range of variability. Sputnik News reported this as if the United States was intentionally increasing imports.
Yes, there is a figure that US crude oil imports have increased by 48%, but that is a cut-off figure for just one week, and overall crude oil imports from Russia are declining. Sputnik's article can be called fake news.
By the way, the United States has taken measures to completely ban the import of oil, coal and natural gas from Russia, and the amount of crude oil imported from Russia was brilliantly zero in the first week of April.
Apr. 10. 2022